China's four biggest banks reported that staff numbers fell by the most in at least six years in the first half, highlighting the possibility that employment has peaked at the firms that are the world's biggest providers of banking jobs.
A decline of 1.5 percent from the end of last year left 1.62 million workers at Agricultural Bank of China Ltd., Industrial & Commercial Bank of China Ltd., China Construction Bank Corp. and Bank of China Ltd., earnings filings showed. Agricultural Bank, the No. 1 bank employer, saw its number of employees slip below half a million.
While a fall in the first half is not unusual, the 25,000-job decline is the biggest since at least 2010 and analysts at firms including BOC International Holdings Ltd. and DBS Vickers Hong Kong Ltd. say changes to how banking is done will limit prospects for increases.
"Chinese banks went through years of expansion, adding physical outlets that helped to push their staff numbers to a peak," said Polar Zhang, a Beijing-based bank analyst at BOC International. He expects the workforce to "dwindle" on technological advances and cost cutting.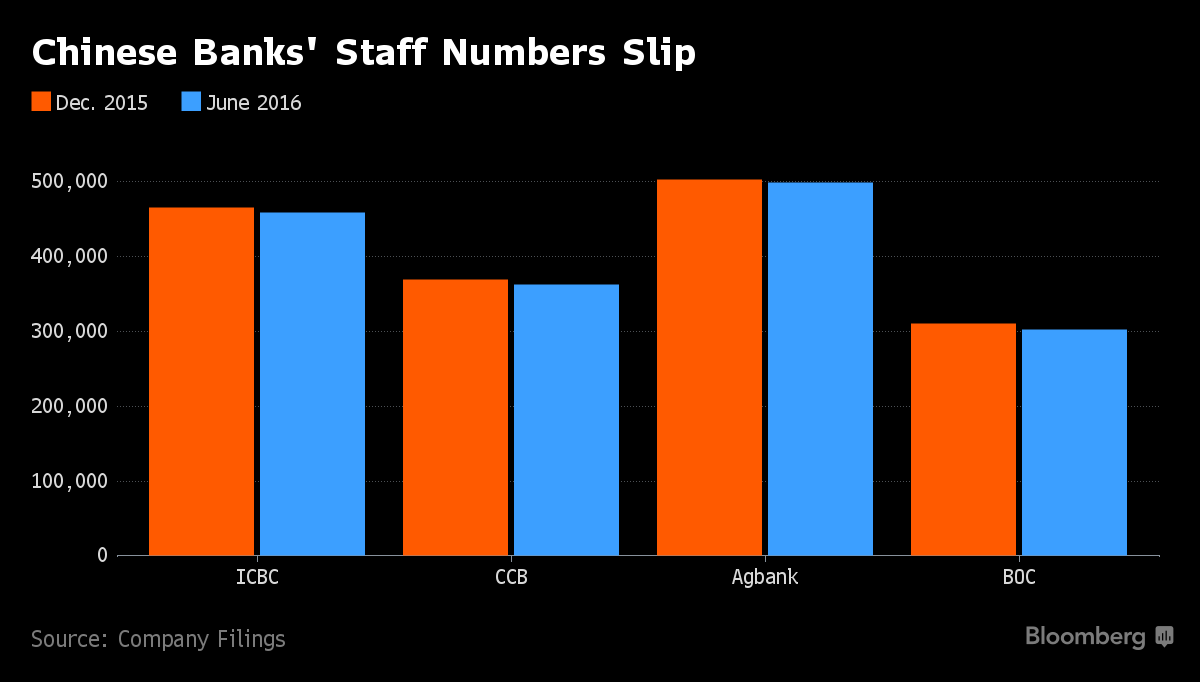 Chinese lenders take four of the top five slots for employment by listed banks around the world, ahead of the likes of Wells Fargo & Co., HSBC Holdings Plc, JPMorgan Chase & Co. and Citigroup Inc., data compiled by Bloomberg show. Russia's Sberbank PJSC is in the top five.
Economic Slowdown
Lenders from Citigroup to Deutsche Bank AG have cut staff and costs in revamps since the global financial crisis.
While Chinese banks have avoided the multi-billion dollar fines for compliance breaches that have weighed on their international counterparts, they're under pressure from an economic slowdown and a rising quantity of bad loans. Margins are falling as the government deregulates the industry and online and mobile players like Zhejiang Ant Small & Micro Financial Services Group -- also known as Ant Financial -- and Tencent Holdings Ltd. eat into their businesses.
Chinese lenders have generally reduced numbers by not replacing staff who leave, according to Shujin Chen, a Hong Kong-based analyst at DBS Vickers Hong Kong. Workers are departing in search of better pay, she said, adding that banks would need less staff as artificial intelligence and online and mobile transactions played a bigger role and lenders developed robots that would interact with customers.
Besides a reduced number of workers, the first-half data also pointed to pressure on pay. The big four banks' combined staff compensation costs -- including salaries, bonuses, allowances and post-employment benefits -- fell 2.6 percent from a year earlier. At the mid-sized China Minsheng Banking Corp., the decline was 22 percent.

Flat revenue and rising pressure on asset quality means "banks have been pushing even harder in cost optimization," Wei Hou, a Hong Kong-based analyst at Sanford C. Bernstein & Co., wrote in a note.
— With assistance by Jun Luo